Guide to surviving a 12 hour emotional rollercoaster
Now I may sometimes be described as emotional - but I'm not prone to crying too often in public. Particularly not on a train, in front of two of my small groups, in our student training session and not to various people whilst having coffee or in the office. So you have to think that something unusual has been going on for me for the past 24hrs.
It all started yesterday morning on my way into work (hence the train) when I got a call from my mum's personal trainer. Mmmm, ok... maybe we need to go back a little further...
So, mum has been going to a personal trainer for a little while. I'm not sure, but I think she got her out of the yellow pages or something. Turns out (by the sheer grace of God) that this woman is a Christian, and not only that, but she goes to my church and has quite a reputation for being able to bring women into bible study groups. This heaven sent woman has been talking to my mum about the Lord, since mum has apparently been asking her questions because she doesn't understand why I make the choices in life that I do. They started talking the other week about the women's retreat that CCSI has on this weekend, with mum asking if it's just for Christians, or if anyone can go along. I may be wrong, but I don't think that either of my parents have ever shown an interest in spending some serious time reading the bible - particularly not for the whole weekend, so this is a pretty amazing first step to take. The trainer called me yesterday morning to let me know that she had asked my mum to come to the women's retreat - and that mum was seriously considering it. Maybe for the weekend, maybe just for the day... we'd find out that night.
I think only those with non-Christian parents will really understand the range of emotions that were running through me at that point: the purest joy and relief at thinking that this could be it - this could be the moment that God is answering 'yes' to 15 years worth of prayers for their salvation. And also the sheer nervous terror of "what if this still isn't it?". So, overcome with emotions, I cried all throughout the day as I told some people what was going on and asked them to pray with me that she would come - and, truth be told, I cried even when not talking to others but just thinking about it on my own.
And so it was with a reasonable amount of anticipation that I went to see my folks last night. When dad asked me what I was doing on Saturday, I just sort of casually answered "oh, not really sure yet. I'm thinking about..." - and that was as far as I got before he interrupted and told me about something he and my uncle are organising for the family to do on Saturday. My heart (just like when you get to the top of a rollercoster) plummeted and bottomed out as I realised that this meant that there was no way that mum would go to the women's weekend.
So I went down to my little flat and cried some more...
Do you know that sense of disappointment? Have you felt it before when it seemed as though you were on the cusp of something truly miraculous and life changing - only to have it seemingly just fly out of your grasp? How did you think about that disappointment? How have you processed the sadness at knowing that this just isn't quite the right time?
Last night (even though it took me a while) I learned again the Jobian lesson of sitting still, and trusting in the fact that God's timing will always be better than mine. That God knows infinitely more than I will ever even glimpse at. I was reminded that God also cares more about my parents salvation than I do - and it is His sovereign choice and knowledge as to whether I will see them in Heaven. And you know what? I'll probably learn that lesson again in the not to distant future too...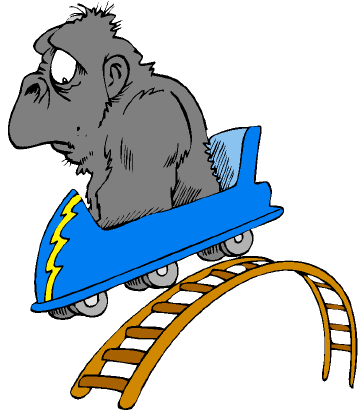 Oh, and not to sound too corny or cliched - but that's my tip for surviving this type of emotional rollercoster. Sit down, strap yourself in (for the sake of those around you try not to scream too loudly) - and trust that He has the controls well in hand.